Krammekatten is a small, family-owned breeder of Maine Coon cats. We have always had animals around us, including a Bernese mountain dog and various domestic cats. More recently, however, only cats.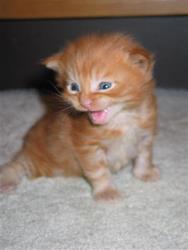 We had long wished for a Maine Coon, and after our 19-year-old house cat, Sofus passed away, we decided our next cat would be from this breed. We bought our first pet, Bine, from Dorthe at Dk krammedyret.dk in 2006, and after another visit to Dorthe, we fell for Athena and Aronja. Aronja was for sale as a pet, but Athena was possibly pregnant and not for sale. Eventually, however, we brought both cats home. We agreed that we would take care of Athena and her kittens and then have one of the kittens from the litter. Great thanks to Dorthe for showing us this confidence. It was a great and wonderful experience to have kittens in the house, and we had no doubt that we would breed this wonderful breed.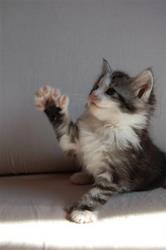 Our choice of kitten was a red boy, Dusty Dundee. The agreement was that he would be neutered, but when he developed a good size and a lovely temperament, Dorthe decided she would like to use him as a stud. He should still be with us.
Dundee was the father of five litters of kittens. In September 2008 we neutered him, because he had begun spraying (everywhere, even inside the house).
We researched breeders' names in the spring of 2008 and bought our first breeding kitten, Krammedyret Oceane. We test for PKD, FIV, FeLV and HCM which is repeated at regular intervals.
Our cats live as family cats and can move freely throughout the house and have free access to a large enclosed garden.
To have a serious breeding program is a big task and we are learning every day.

Our goals are:
Health: we want to contribute to improve the breed by having healthy kittens. As a consequence, all our cats are or will be FIV/FeLV-PKD- HCM (DNA test and echo-screenings) tested.
Temperament: we want to breed loving and socialized kittens. It takes time to raise a nice and loving kitten, and to be able to concentrate on each kitten, we only have one litter at a time. In this way we are able to take good care of each kitten by having the kitten in our hands everyday to get the kitten familiarized with humans.